KARL M. LARSEN, O.D.
Karl M. Larsen, O.D.
Dr. Karl graduated from Rancho High School and considers himself an "almost native" Las Vegan. He attended Brigham Young University, University of Nevada Las Vegas, Los Angeles City College and graduated from the Southern California College of Optometry in 1967, with a Bachelor of Science and Doctor of Optometry degrees. Dr. Karl was a teaching assistant at UNLV and a clinical instructor at Southern California College of Optometry before entering into private practice in North Las Vegas. He enlisted in the U.S. Army in 1968 and was the Asst. Chief of Optometry at William Beaumont General Hospital in El Paso Texas and staff Optometrist at McAfee Military Hospital at White Sands Missile Range. After leaving the military in 1970 he returned to Las Vegas and began his solo practice of Optometry.
Dr. Karl has been involved in his profession and the community. He served on the board of the Chamber of Commerce of North Las Vegas and was King Lion of the North Las Vegas Lions Club. On a local level he has been the President of the Southern Nevada Optometric Association, Vision Service Plan Nevada and the Nevada Optometric Association. He has served on the national level as a member of the American Optometric Associations Eye Care Benefits Center, and as the Chairman of the Board of Vision Service Plan National. Currently he serves as the President of Professional Eyecare Network of Nevada, a managed care group.
Dr. Karl's avocation is Signature Productions, a local community theatre company he founded 20 years ago. Not only does he act and sing he is the Executive Producer of all the Signature productions. You can access his theatre background and find out what the production company is doing by going to www.signatureproductions.net. Please come and enjoy good live musical theatre.
Dr. Karl offers full scope Optometric care. He is Board Certified in the diagnosis and management of ocular diseases, including Glaucoma. His practice includes pre and post operative care for cataract surgery, pre and post operative care for Lasik surgery, eye health examinations for Diabetics, specialty contact lenses and any type of eyewear. The doctor provides eye examinations for children over 4yrs, teens and adults of all ages. Dr. Karl accepts most insurance plans.
Dr. Karl has been married 40 years and has six wonderful children and 7 lively grandchildren.
---
SUSAN, Billing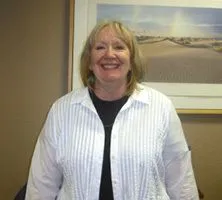 Bio coming soon...